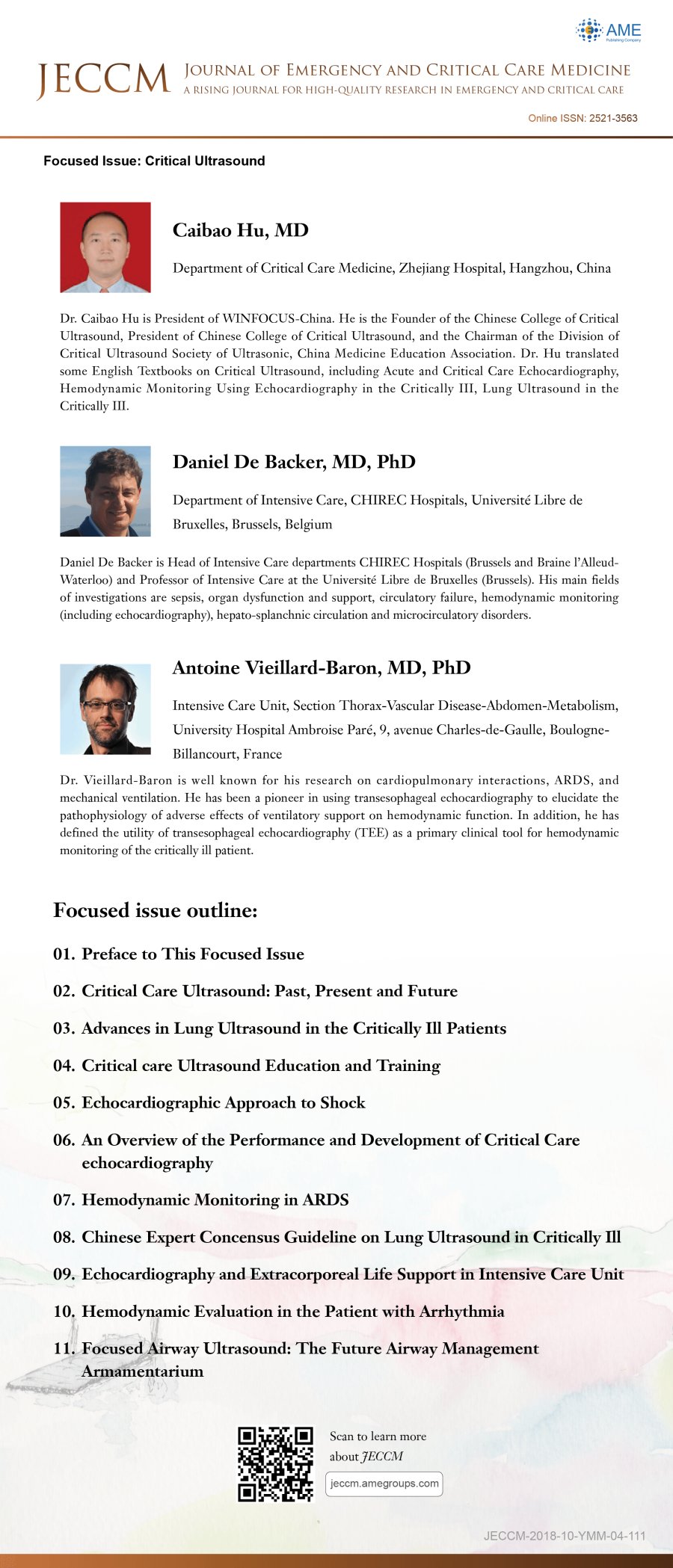 This focused issue on "Critical Ultrasound" is edited by Dr. Caibao Hu from Department of Critical Care Medicine, Zhejiang Hospital, Hangzhou, China; Dr. Daniel De Backer, from Department of Intensive Care, CHIREC Hospitals, Université Libre de Bruxelles, Brussels, Belgium; and Dr. Antoine Vieillard-Baron, from Intensive Care Unit, Section Thorax-Vascular Disease-Abdomen-Metabolism, University Hospital Ambroise Paré, 9, avenue Charles-de-Gaulle, Boulogne-Billancourt, France.
Dr. Caibao Hu is President of WINFOCUS-China. He is the Founder of the Chinese College of Critical Ultrasound, President of Chinese College of Critical Ultrasound, and the Chairman of the Division of Critical Ultrasound Society of Ultrasonic, China Medicine Education Association. Dr. Hu translated some English Textbooks on Critical Ultrasound, including Acute and Critical Care Echocardiography, Hemodynamic Monitoring Using Echocardiography in the Critically Ⅲ, Lung Ultrasound in the Critically Ⅲ.
Dr. Daniel De Backer is Head of Intensive Care departments CHIREC Hospitals (Brussels and Braine l'Alleud-Waterloo) and Professor of Intensive Care at the Université Libre de Bruxelles (Brussels). His main fields of investigations are sepsis, organ dysfunction and support, circulatory failure, hemodynamic monitoring (including echocardiography), hepato-splanchnic circulation and microcirculatory disorders.
Dr. Vieillard-Baron is well known for his research on cardiopulmonary interactions, ARDS, and mechanical ventilation. He has been a pioneer in using transesophageal echocardiography to elucidate the pathophysiology of adverse effects of ventilatory support on hemodynamic function. In addition, he has defined the utility of transesophageal echocardiography (TEE) as a primary clinical tool for hemodynamic monitoring of the critically ill patient.
Focused issue outline:
Preface to This Focused Issue
Caibao Hu, Department of Critical Care Medicine, Zhejiang Hospital, Hangzhou, China
Daniel De Backer, Department of Intensive Care, CHIREC Hospitals, Université Libre de Bruxelles, Brussels, Belgium
Antoine Vieillard-Baron, Intensive Care Unit, Section Thorax-Vascular Disease-Abdomen-Metabolism, University Hospital Ambroise Paré, 9, avenue Charles-de-Gaulle, Boulogne-Billancourt, France
Critical Care Ultrasound: Past, Present and Future
Luca Neri, LTTA-Electron Microscopy Center, University of Ferrara, 44121 Ferrara, Italy
Advances in Lung Ultrasound in the Critically Ill Patients
Volpicelli Giovanni, Department of Emergency Medicine, San Luigi Gonzaga University Hospital, Turin, Italy
Luigi Vetrugno, Department of Medicine, University of Udine, Udine, Italy
Critical care Ultrasound Education and Training
Carmela Graci, AREU-Azienda Regionale Emergenza Urgenza, Niguarda Hospital, Milan, Italy
Echocardiographic Approach to Shock
Daniel De Backer, Department of Intensive Care, CHIREC Hospitals, Université Libre de Bruxelles, Brussels, Belgium
An Overview of the Performance and Development of Critical Care echocardiography
Claire Colebourn, Department of Critical Care Medicine, OUH NHS Trust, Oxford, UK
Hemodynamic Monitoring in ARDS
Antoine Vieillard-Baron, Intensive Care Unit, Section Thorax-Vascular Disease-Abdomen-Metabolism, University Hospital Ambroise Paré, 9, avenue Charles-de-Gaulle, Boulogne-Billancourt, France
Chinese Expert Concensus Guideline on Lung Ultrasound in Critically Ill
Caibao Hu, Department of Critical Care Medicine, Zhejiang Hospital, Hangzhou, China
Echocardiography and Extracorporeal Life Support in Intensive Care Unit
Nadia Aissaoui, Paris-Cardiovascular-Research-Center, INSERM U970, Paris, France
Hemodynamic Evaluation in the Patient with Arrhythmia
Arif Hussain, Head of Cardiac Critical Care, Consultant in Cardiac Anesthesia, King Abdulaziz Medical City (1423), Riyadh, Saudi Arabia
Focused Airway Ultrasound: The Future Airway Management Armamentarium
Adi Osman, Department of Trauma & Emergency Medicine, Raja Permaisuri Bainun Hospital, Ipoh, Malaysia